It's Wednesday and I'm linking up
{{here}}
for "What I'm Loving Wednesday."
1. Joyce Meyer: Promises for Your Everyday Life - A Daily Devotional'
I LOVE my Bible app on my iPad. It's super easy to navigate through the Bible, and I can change translations with the mere click of a button. I also love this app because it includes several different devotional plans. I am on my 11th day of a year-long Joyce Meyer devotional about promises in the Bible. There is a mini-lesson, a scripture reading, and a prayer-starter for each day. I love starting my day with God's word. Here's a screenshot of my devotional today:
2. Quality Time with my Hubby
Jason and I went to Hershey Park last week. We opened the park at 10am... and we stayed until the park closed at 10pm. Wow.. LONG DAY, but it was awesome to spend an entire day, uninterrupted with my best friend. I'll post more about our day later :)
3. Pampered Chef Products
I. Am. Addicted. I went to my very first Pampered Chef party last month and I have fallen in love with their products. My first two purchases were the Deep Covered Baker (stoneware that you can use in the microwave to create a delish meal in 30 minutes or less) and the Manual Food Processor. The Deep Covered Baker is also known in the Pampered Chef world as "The Magic Pot". You can roast an entire chicken in the microwave in this natural stone baking dish in 35 minutes... and it's the juiciest chicken you'll ever try. I know, I didn't believe it when I heard it either... until I tried it for myself! I made some Brushetta Chicken Pasta the other night in my microwave and it was AMAZING.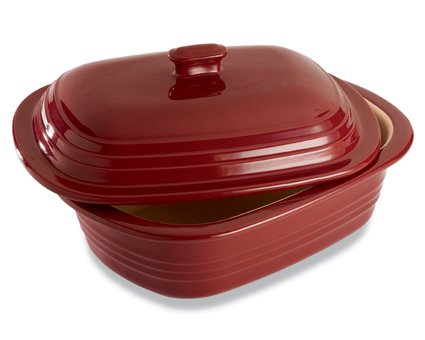 4. Nineteen Minutes by Jodi Picoult
I have never read a Jodi Picoult book that I didn't enjoy, and while Nineteen Minutes has been published since 2007 and is not necessarily a "new" title, it's a great book so far.
5. Back to School Shopping
One of the perks of being a teacher is getting to go back to school shopping as a grown-up! Fun, fun, fun! I went to Kohls on Saturday, armed with my 20% off coupon and saved $357.00. I bought seven tops, a pair of shorts, two pairs of trousers, a pair of flip-flops, and three new button-down shirts for J. My budget was $200 and I only went $15 over. I think Round One of Back to School Shopping went well. Hopefully Round Two ("Trouser Shopping for Short-Legged Teacher") will be equally successful next weekend - ha!
6. Fun Times with Friends
Amy and I spent Monday together. We went on a photo safari! Over the course of the day, we took photos at the school farm, Pen Mar Park, High Rock, my friend's winery and vineyard, and Cunningham Falls. We had a great time! I'll post more about our adventures later this week. Then, today, my BFF took me to a fancy spa to get a pedicure as a late birthday present. It was totally relaxing and a great chance to catch-up with each other!
7. Pinterest Posters
Here are some posters from Pinterest that struck a particular chord in me this week.
Until next time... XOXO