This handsome, loveable, busy little boy turned SIX MONTHS OLD on the first of November. Seriously, 2013? Can you just slow down, please?!
And... to really compare how much he's grown...
His one month, three months, and six months comparison pic!
At 6 months, you weigh 17lbs 9oz and are 27 inches long. You wear size 3 diaper and 9 month clothes.
I absolutely love to hear your little chuckles and belly laughs. You also scream when you get excited :-)
This month, you found your feet! You love to grab your toes and socks and try to put them in your mouth.
You are becoming VERY observant. You notice little details like buttons, jewelry, and hoodie strings. You are also very watchful of animals. You love to try to pet BoBo at Nanny and Poppy's house, and you're getting more and more curious about Kitty. Kitty is also warming up to you a little bit, finally.
We started you on some solids this month! You get oatmeal and some fruit at midmorning and before bed time. You enjoy eating from a spoon in your high chair. :-)
You love your Mommy and Daddy! When Mommy leaves the room, you often start to fuss. You definitely keep your eye on me when I'm close by. I love our special bond, Jesse!
You are primarily formula-fed now. I continue to pump while I'm at work to provide you with a bottle of breastmilk while I'm away, however when you nurse at home, it's more for comfort than anything else. You're slowly weaning yourself, and I'm okay with that.
Your sleep schedule hasn't really gotten any better or worse from last month. We still have a few night time parties at your crib throughout each night ;-) but I don't mind them. All the more time to cuddle!
You are getting very, very strong! You love spending time in your jumperoo and walker. When we put you on the floor, you will immediately roll onto your belly and push yourself up. Sometimes you'll do planks, like this:
Happy 6 Months, Jesse!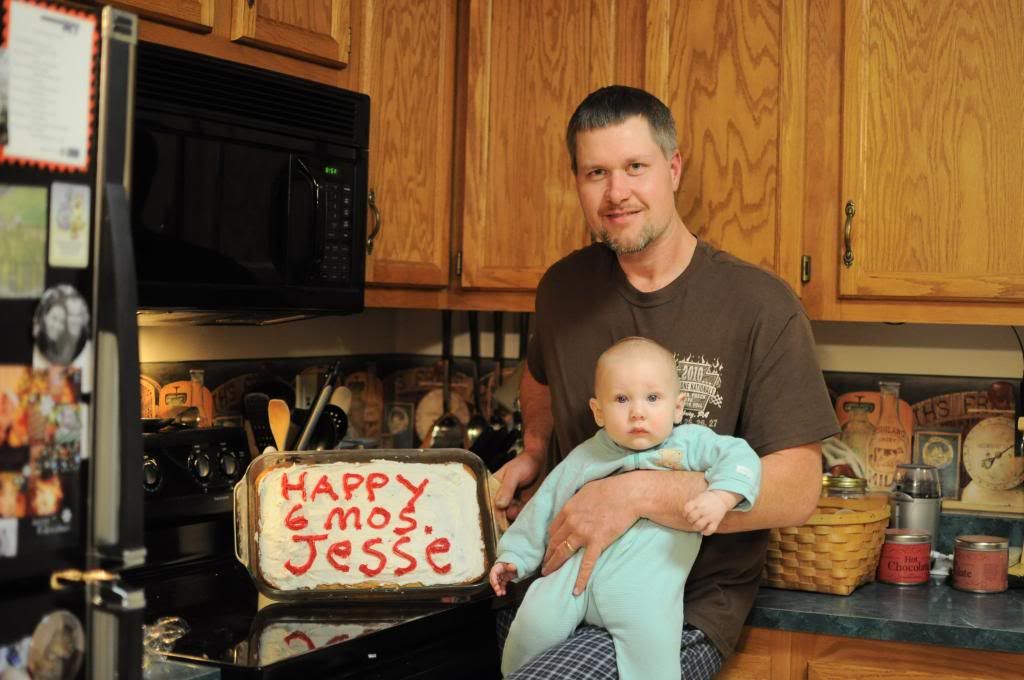 Daddy baked and decorated a cake for your Half Year Birthday :-)