Well, my mother-in-law and I ventured out to find fabric for my baby boy's nursery on Monday evening. To see the post where I shared the nursery colors and inspiration, click
{{here}}
.
We started out at a locally owned fabric shop. While they had a nice selection of baby fabrics, they were lacking in the blue-brown department. They had one fabric that I loved - a blue fabric with a large brown damask swirl design... and of course, I needed 6 yards and they only had 2.
It was slightly frustrating because I thought this shop was going to be THE place to go - if they didn't have what I wanted, I doubted anyone would, because they are said to have the best selection in town.
When we walked out of the shop with just a swatch of the fabric I liked in hand (just in case I could find something similar), Connie (world's best mother-in-law!) asked if there was a Joann's Fabrics close by. I told her there was one across town... so we loaded up in my car and headed to Joann's.
As soon as we walked ino the quilting fabric department, I spotted an entire section of blue/brown fabrics. Out loud, I said "Be still, my heart!" I found a brown fabric with a chunky blue swirl design and fell in love. We picked out coordinating fabrics, everything was coming together nicely.
...And then.
And then I got to thinking. The fabric that I picked out as my base fabric as the main fabric for my quilt and window treatment was beautiful... but, did it say "Baby Boy?" There were some flowers mixed in with those swirls... but, the more I looked at it, the fabrics just seemed to look older. It was definitely a beautiful set of fabrics that I would love to have for a quilt in my bedroom... but could I imagine my baby boy walking around with this quilt as his "blankie"? Nope. Just couldn't do it.
I think my mother-in-law was ready to shoot me.
So we scoured the store looking for another fabric that was appease me.
And then I found it. I found this cute puppy fabric that matched some of the other complimentary fabrics that I had already picked out! So, a quick look for another complimentary fabric or two... and this is what we came up with :-)
...2 and a half hours later, LOL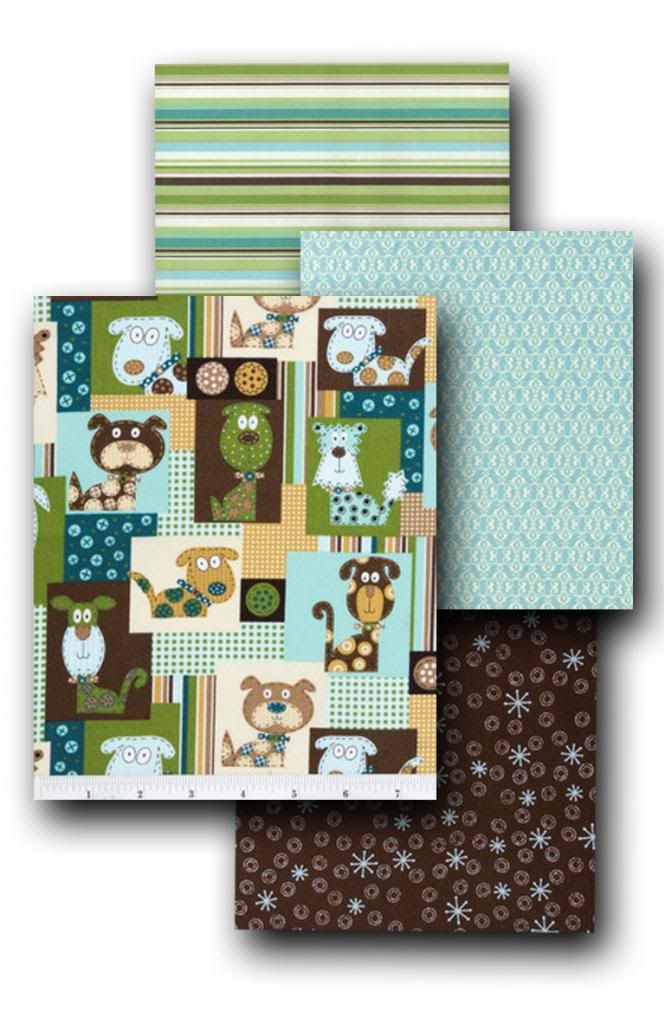 I am so excited for the bedding, pillows, and window treatments now that I have the fabric picked out! I couldn't have done it without Connie's help... and her patience :-)
What do you think?!