Houston, we have an Induction Date!
That's right, friends. Baby boy will be evicted from his current comfy living arrangment at the end of the month. I will go in at 7pm on April 30th and most likely will deliver on May 1st!
I'm praying that my little guy will decide to come on his own before the scheduled induction, just because I'd much rather give my body the chance to progress through labor naturally without the need for pitocin. At the same time, it's comforting to know that I won't be sitting around a week past my due date wondering when my water's going to break! There is a definite end to my pregnancy coming... and my baby boy will be in my arms no later than May 1st! SO EXCITED!!!
I had a doctor's appointment last night. Everything went great! I'm now measuring a week behind at 35 weeks (I'm currently 36 weeks and 1 day). I had a surprise ultrasound at my appointment last night, and I got to see my baby boy moving all around and practicing his breathing movements. It was so neat to see his little ribs contracting and expanding with each practice breathing movement.
I was surprised to have an ultrasound last night after just having one on Friday afternoon. To date, I've had 8 ultrasounds with this pregnancy... so blessed with all the opportunities to see my baby. At Friday's ultrasound, baby boy weighed in at exactly 6 pounds... 55th percentile! (Remember, 50th percentile is considered average... so baby boy is right on track!) I'm so proud of myself for managing the gestational diabetes so well... my baby is not abnormally large by any means, so the doctor said I must be doing very well with controlling my blood sugars. She estimates that the baby will weigh approximately 7 and a half pounds when I deliver. We are soooo close!
One of the highlights of my week was DEFINITELY getting to see my baby boy. He loves to keep his hands up by his face... so funny! I just want to meet him in person, already.
His sweet little feet ;-)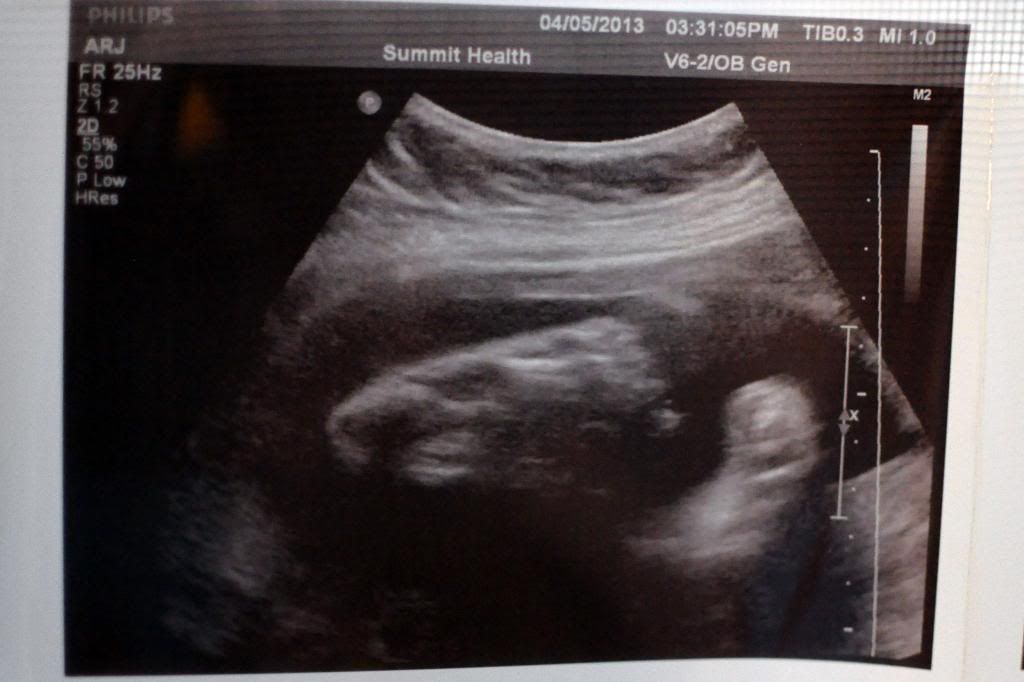 And now... for the 35 week update :-)
How Far Along? 36 Weeks, 1 Day
Size of Baby: My guess is 6lbs and a couple of ounces! He weighed exactly 6lbs on Friday. :-)
Total Weight Gain/Loss: Gained two pounds this week! Starting to retain some fluid - wedding rings are getting tight and my ankles are getting puffy. Still one pound less than pre-pregnancy weight.
Maternity Clothes
:
Trying to find some comfy skirts/dresses to wear in this warm weather we've been having!
Gender: Sweet baby boy :-)

M
ov
ement
: I know he's starting to run out of room, but baby boy is SO active in the evenings! He moves around so much that my nurse at my hospital monitoring on Sunday made the remark that I'm going to have a 'wild one' on my hands here in a few weeks! She couldn't get over how much he was moving around. While he's super active in the evenings, I don't hardly ever feel him moving around at night. I'm hoping that means he will be a sound sleeper through the night from the time he is born. ...HA! Wishful thinking, I know ;-)
What I miss: Having energy!!!
Cravings: Chocolate anything... I've actually found that a few peanut M&M's before bedtime doesn't hurt my morning blood sugar levels at all... SCORE! :-) Also found that a small, iced mocha from Sheetz with sugar-free dark chocolate flavoring does NOT spike my blood sugar - I get it made with whole milk and it's actually a great snack.
Symptoms: Exhaustion by the end of the day... Swelling by the end of the day... Just really starting to feel generally uncomfortable.
Best Moment This Week: Aside from seeing my baby boy at the ultrasound last week, one of the other best moments has been getting my nursery all ready to go for the baby! My mother-in-law helped me paint, my Hubby put up the chair rail and put together the crib, and my Momma came to the rescue to help me get everything situated and organized. It has truly been a blessing to have so much help putting the baby's room together! I cannot wait to post a 'Nursery Reveal' and share pictures of all the details of baby boy's room... but it's not quite ready for photos yet. But in the mean time, I'll leave you with this sneak peek:
Kitty approves of the rug :-)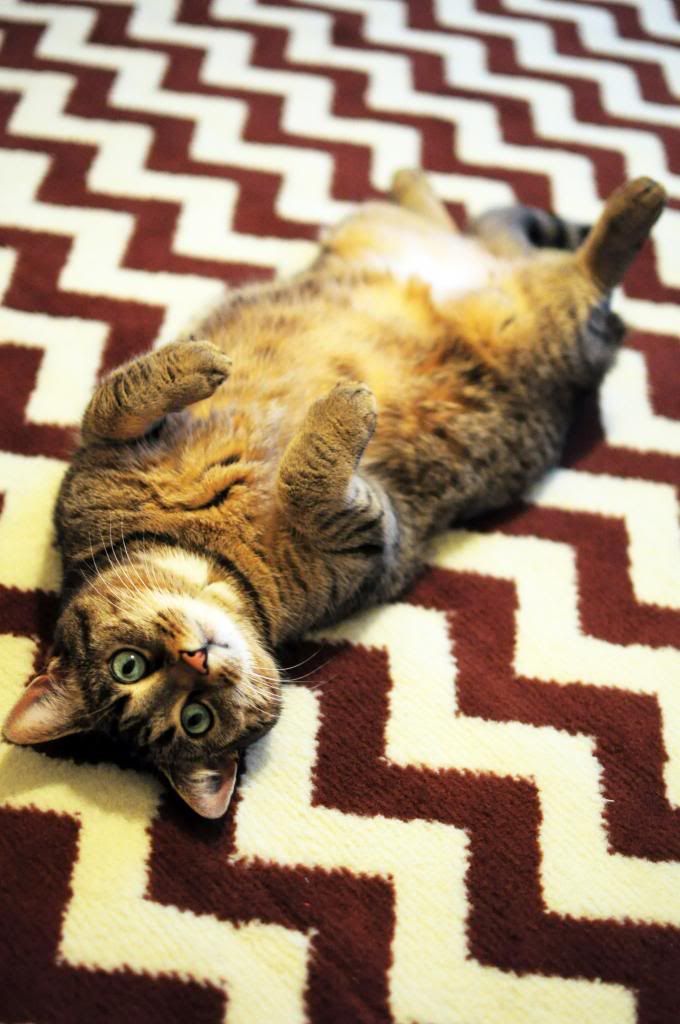 Lo
oking Forward
To

: FINALLY meeting my baby boy!